COVID-19 Impacts: Trends in the Food & Beverage Industry
Member News
Blog
Gift cards
Forter
Jun 09, 2020
Blog
Consumer transaction volumes across the food, beverage, grocery, and delivery industries have skyrocketed over the last several weeks due to the impacts of the coronavirus (COVID-19). More severe shelter-in-place restrictions, loss of employment, and the closure of brick and mortar stores have precipitated a new culture of eCommerce.
Forter's latest COVID-19 report
shows that, when benchmarked against the median volume of transactions during the weeks between January 6 and February 9 of this year, online transactions in the food and beverage industry were up 190%, with a significant spike in liquor purchases (up 300%) while grocery and delivery transactions were up 236%.
New Pain Points for Merchants
Alongside increasing transaction volumes, fraud and abuse trends are shifting. With an unprecedented number of orders and increased consumer demands, merchants now face new pain points.
1.
Expectations of expedient deliveries
-- Increased demand means an influx of deliveries and fulfillment requirements. Merchants have not been amply prepared for this heightened demand which has resulted in increased service chargebacks by dissatisfied customers. Likewise, the new account proportion in the food and beverage industry has multiplied up to 6.5x the normal rate at its peak. These new customers are often the ones with the highest expectations of service. If their expectations are not met, it is likely that they will both file service chargebacks and be less inclined to revisit that brand for their desired products in the future.
2.
Contactless deliveries can be an avenue for fraud and abuse
-- As contactless delivery minimizes human exposure and maintains social distancing guidance, fraudsters can use excuses for not being at the specified shipping address or requesting items to be "left outside." Additionally, contactless delivery has proven to be a reason for service chargebacks. With items either not arriving or issues with delivery, legitimate customers are increasingly filing chargebacks. Friendly-fraud, instances where good customers bend merchant policies, is more common within this area, too. Customers filing claims that they never received their deliveries are then reimbursed for items that they did indeed receive.
Adapting to the New Normal
As both consumer and fraudulent behaviors continue to shift over this dynamic period, merchants will need to ensure they are able to quickly adapt their online channels to meet expectations.
At the beginning of the virus outbreak, there seemed to be specific items that interested buyers (for instance, masks, hand sanitizer, canned food, and toilet paper). For example, during this period the proportion of bananas in shopping carts decreased by 26%. Once people got their emergency supplies, they turned back to the "essentials" and the proportion of bananas has seen a 33% increase over regular-time carts.
These types of shifts in consumer activities are unique to the current time. As bursts of activity shift, merchants must ensure that their systems are able to deliver a consistent experience in this digital environment and not turn away potentially good customers out of fear of fraud, risk, or atypical behaviors.
Top Fraud and Abuse Trends
COVID-19 has caused a pivot in fraud and abuse behaviors due to the dramatically changing market dynamics of the food and beverage and grocery and delivery industries. As a result, the following fraud and abuse trends have recently emerged.
Promo Abuse
Large scale promotions have been prevalent across all industries as the COVID-19 environment persists. Merchants who have been forced to close their brick and mortar stores understand the need to entice shoppers to their online channels. Promos are an excellent means of doing so. As merchants in these categories realize they need to pivot their business operations to replace lost revenue from closed brick and mortar stores, they very quickly began offering promotions for new account openings.
ATO Attempts
Data indicates that there is an increase in more sophisticated fraud attempts across industries including social engineering and account takeovers (ATO). Data indicates ATO attempts increased by 179% (April over benchmark).
Gift Card Fraud
Many businesses are augmenting their gift card options to drive customers back to their brick and mortar locations once physical stores begin to reopen. Online food and beverage and groceries and deliveries categories, despite having online success during this period, have also been offering gift cards to entice customers to visit their physical locations once this is possible.
Gift cards are also enticing to fraudsters for two reasons:
1.
Prepaid cards are usually anonymous
-- Most card issuers have no idea who bought them, who currently possesses them, or if they were sold to a third party.
2.
Stolen gift cards are typically sold for 25%-60% of their real value
-- This is less than what they are actually worth, but still relatively high compared to most stolen goods on the dark web (for example, frequent flier miles are sold for 6%-10% of their real value).
Fighting Fraud in an Unprecedented Time
Food and beverage and delivery and grocery companies have an unprecedented opportunity to create new and long-lasting customer relationships right now, provided they are able to strike the right balance between fraud and abuse prevention and minimizing friction. This means providing customers a frictionless online experience that matches the expectations of consumers who have become accustomed to one-click shopping platforms such as Amazon.
Food and beverage and delivery and grocery companies need to provide these experiences securely and at scale, which is nearly impossible to do with multi-vendor fraud detection solutions and manually driven processes. A single, integrated fraud prevention platform is better equipped to protect the entire customer journey and reduce friction, from login to checkout, even as companies experience surges in demand.
The rapid digital transformation and huge volatility in traffic across many industries, along with the changes driven by cost reduction activities throughout the business sector, generate a lot of uncertainty and operational pressure. Forter provides COVID-19 specific support tools for merchants that are currently facing these challenges.
Want to learn more about how consumer buying behaviors and fraud trends may be impacting your business?
Get in touch with Forter at
info@forter.com
.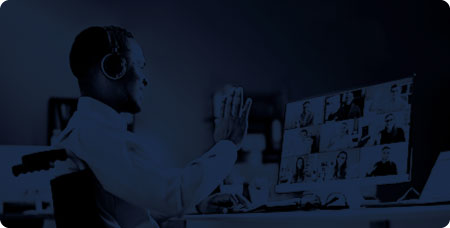 Host a Webinar with the MRC
Help the MRC community stay current on relevant fraud, payments, and law enforcement topics.
Submit a Request
Publish Your Document with the MRC
Feature your case studies, surveys, and whitepapers in the MRC Resource Center.
Submit Your Document