The Vital Importance of Alternative Payment Methods in Latin America's Digital Commerce
Member News
Blog
Latin America (LATAM)
Payments
Alternative Payments
EBANX
Apr 05, 2023
Blog
Alternative payment methods account for almost 40% of LatAm's digital commerce payments volume. See what's behind this phenomenon and successful examples in the region.
---
Gracias, but no cards. Alternative payment methods (APMs) account for almost 40% of digital commerce payments volume in Latin America - a number that keeps growing -as reported by EBANX's 2022-2023 Beyond Borders study. They are surpassing card payments in several countries, so what are the reasons behind this phenomenon?
From instant payments, such as Pix, to digital wallets and vouchers, like MercadoPago, and PagoEfectivo. You are about to discover why APMs are essential to the region's digital commerce and learn more about successful solutions across Latin American countries.
Sit back and enjoy the reading!

Latin America: the powerhouse for alternative payment methods
Alternative Payment Methods (APMs) are anything other than credit and debit cards. These payment methods are on the rise in Latin America (LatAm), with new digital consumers bringing a diversity of payments and access into e-commerce. Yet, how powerful are they?
As reported by EBANX's annual study, Beyond Borders 2022-2023, APMs shares were expected to reach almost 40% of the e-commerce volume in the region in 2022, jumping from 31% two years before, with peaks of 55% in Colombia and 46% in Brazil.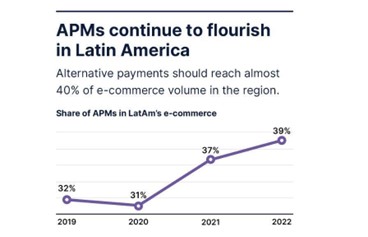 Source: Beyond Borders - 2022-2023 / EBANX & AMI (Americas Market Intelligence), data pack
When we look at the relevance of APMs per country in the region, Colombia (50%) and Brazil (44%) are where these payment methods have the most significant share of e-commerce payments. On the other hand, in Ecuador, Guatemala, and Paraguay, APMs share is still under 30% – something that should change since digital commerce in these countries is still developing.
Source: Beyond Borders - 2022-2023 / EBANX & AMI (Americas Market Intelligence), data pack
What are the pushers of this phenomenon?
There are two leading causes for the disruptive growth of alternative payment methods:
Consumer preference: especially during the pandemic, when online shopping and digital payments had a boost in their popularity, the Latin American consumer got used to the idea of paying in an instantly and digitized way, which replaced physical cash. APMs have also delivered a better user experience to Latin Americans and are less susceptible to fraud than cards.
The low credit and debit card penetration: although most Latin Americans now have a bank or digital account - 73% in 2021 - they lack access to credit or debit cards - only 28% own a credit card, according to the World Bank - and, therefore, depend on APMs in their daily transactions, including online purchases.


What are the most popular APMs in Latin America's digital commerce?
APMs are the present and future of LatAm's digital commerce. Currently, at the top of the APM's ranking in the region, there are account-based transfers pushed by instant methods, especially in Brazil and Colombia. Then, the top three are completed by digital wallets and voucher payments.
The chart below proves how this ranking can vary depending on the country. Digital wallets, for instance, are king in Argentina, and there's still a strong preference for vouchers in Peru.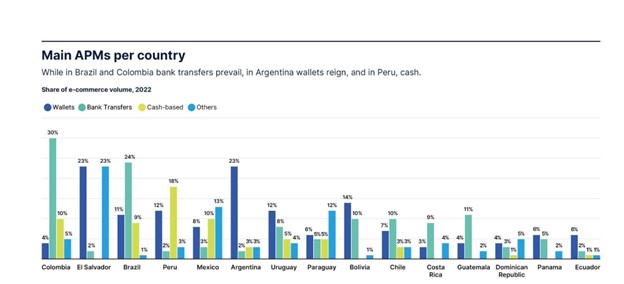 Source: Beyond Borders - 2022-2023 / EBANX & AMI (Americas Market Intelligence), data pack


→ Account-based Transfers
Account-based transfers have almost doubled their participation in Latin American digital commerce payments yearly over the last five years, with a compound growth rate of 86% since 2018. Pushed by the pandemic, these transfers are mainly instant and digital. The phenomenon is so strong within the region that LatAm is already considered the fastest-growing instant payments market in the world, according to ACI worldwide.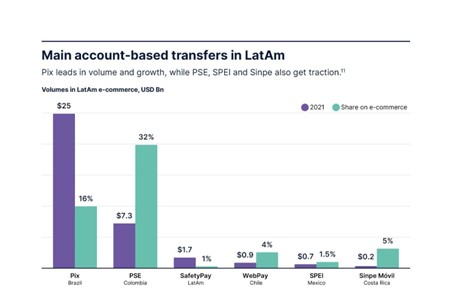 Source: Beyond Borders - 2022-2023 / EBANX & AMI (Americas Market Intelligence), data pack
Pix: Developed by the Brazilian Central Bank at the end of 2020 and exclusively available in Brazil, Pix is a popular instant payment method that is currently used by 75% of Brazilian adults (more than 160 million people) and has a higher penetration rate than credit cards, which is roughly half at 40%, as per the World Bank.
PSE: Created by Colombia's clearing house, PSE is also a real-time payment. Although less popular than Pix, it was the most used payment method in Colombia's digital commerce - surpassing credit cards - in 2021. It currently enables account-based transfers for users of 34 banks/fintech in the country.
Other relevant solutions: SPEI in Mexico, Sinpe Móvil in Costa Rica, Simple in Bolivia, Pagos al Instante in the Dominican Republic, and SafetyPay, at a regional level.
→ Digital Wallets
Digital wallets have been among the top-three payment methods in LatAm's digital commerce in the last years, just behind cards and account-based transfers, according to EBANX's 2022-2023 Beyond Borders study. They are expected to grab a 10% share of all online transactions in the region over the next few years – growing around 20% per year on LatAm's e-commerce through 2025.
The most popular and successful digital wallets operating in the region are at a global and regional level, although some country-level initiatives are also gaining traction.
Mercado Pago: Mercado Pago is a multi-acquiring platform that belongs to the Latin American e-commerce behemoth Mercado Libre. Besides offering several financial services, it is the most used digital wallet in LatAm's digital commerce. This e-wallet currently counts 31.5 million users and covers the largest Latin American economies. Mercado Pago enables payment via credit and debit cards and stored balances.
PayPal: the leading wallet for digital commerce in Brazil, for domestic and cross-border purchases, currently represents 42% of the total sales volume originating from digital wallets. It is also present in several other countries within the region, and thanks to its firm global brand name and reputation for security, it has established a significant market footprint.
Other relevant solutions: Nequi, in Colombia, and MACHPay, in Chile.
→ Cash & Vouchers
Cash and voucher payments are considered popular and traditional APMs for Latin Americans. Yet, their share in LatAm's digital commerce is decreasing - nearly 20% in 2020, against 8% in 2022 - a sign that cash is moving to digital and its adoption for e-commerce should slow, as indicated by EBANX's Beyond Borders study.
Due to cultural preferences, some countries still have a considerable cash & voucher payments share in their digital commerce. Those are the case of Peru, Mexico, and Brazil – at 19%, 10%, and 9%, respectively – some of the region's most prominent digital markets. Thus, the relevant cash & voucher payments operating in LatAm are in these countries.
Boleto: created in the early '90s, Boleto became part of the Brazilian culture. It is a traditional voucher/cash-based payment method officially from and exclusively used in Brazil. Commonly used by people to pay for monthly bills, such as water and energy, this method has become widely used for online purchases as well, corresponding to 11% of the total payment volume of Brazil's digital commerce.
PagoEfectivo: launched in 2009 in Peru, PagoEfectivo is a voucher payment that, in the beginning, allows consumers to pay for online purchases through a physical location in cash. Later, it added the possibility of paying via online banking, and since 2022, people can pay with digital wallets using QR codes. It became the fastest-growing and the third-most-used payment method in Peru's digital commerce, as reported by Beyond Borders 2022-2023.
Other relevant solutions: OXXO in Mexico; ServiPag and Sencillito, in Chile; SafetyPay, in Peru and Ecuador; and PagosNet, in Bolivia
Key Takeaways
In a region with such a low credit and debit card penetration, offering alternative payment methods became vital for local and cross-border digital commerce. The pandemic has boosted a phenomenon that started almost a decade ago, and now, the Latin American online consumer demands a digital and localized payment experience that only APMs can deliver.
Cards and especially cash-based payment methods are gradually losing space to APMs across LatAm, although this shift's speed and intensity differ in each country. As reported in this article, account-based transfers - pushed by instant payments - and digital wallets have proved to be the strongest drivers of this phenomenon. They can be considered the region's digital commerce present and future.
Do you want to learn more about the ultimate market and payment trends in Latin America and other fast-growing digital commerce markets? Then, check out the fourth edition of Beyond Borders – EBANX annual study!
About EBANX
EBANX is the top-performing payments partner connecting global companies to customers from the fastest-growing digital markets in the world. Trusted by leading digital brands ranging from Uber, Sony, Spotify, Monday, AliExpress, and Kwai, we collect funds locally and remit them globally while also enabling hundreds of payment methods in different countries in Africa and Latin America for our clients.
Over the past 11 years of our history, we have had a solid growth record, financial consistency, and transparency, which has posed us as a trustworthy choice for global businesses reaching more opportunities and expanding their total addressable market.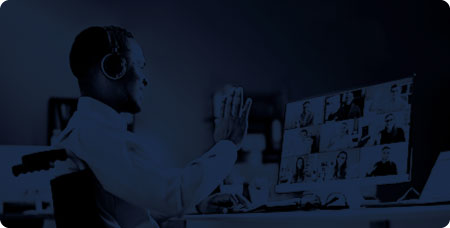 Host a Webinar with the MRC
Help the MRC community stay current on relevant fraud, payments, and law enforcement topics.
Submit a Request
Publish Your Document with the MRC
Feature your case studies, surveys, and whitepapers in the MRC Resource Center.
Submit Your Document